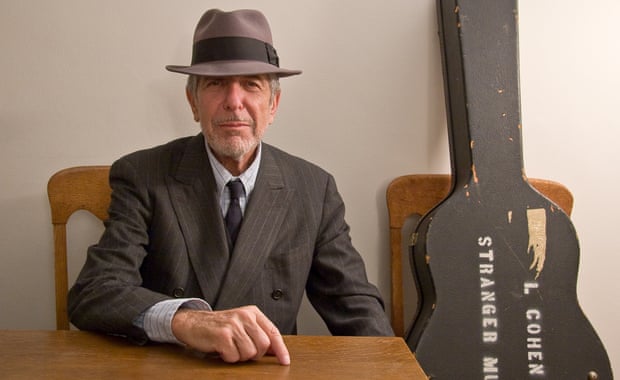 Canadians have a reputation for being rather quiet, polite and certainly not braggarts. It seems to be an inbred part of our culture. We have produced some of the most talented people involved in the arts but, we seem very surprised that their work becomes known outside of our own country. Luckily, the rest of the world has embraced such Canadian artists as Joni Mitchell, Neil Young and Leonard Cohen.
It seemed quite fitting that within hours of his passing, the word that Leonard Cohen was gone appeared to make the news around the globe. His words and music appeared to resonate well beyond our Canadian borders.
Although he was a successful poet and novelist in his early years, Leonard wished to have a career with which he could actually afford to pay the bills. He was in his thirties by the time he began to set his words to music. Judy Collins and others began to cover his works and Cohen soon followed suit to begin his own recording career.
Both his dark voice and even darker lyrics seemed to make for an unlikely path to success. However, he became an unlikely "star" none the less. His worked garnered both love and respect from other artists and his audience.
As with any artists with such a lengthy career, his also included many ups and downs – musically, personally and financially. Through it all, he kept going and created a body of work which would keep his star shining right up until the end.
Those who thought that his music was a doom and gloom have missed the point on many occasions. There was often a great deal of humour hidden among the black thorns.
When I began playing his album Old Ideas upon its release back in 2012, I was soon laughing out loud. The song Going Home pretty well says it all.
Going Home (Leonard Cohen / Patrick Leonard)
I love to speak with Leonard
He's a sportsman and a shepherd
He's a lazy bastard
Living in a suit
But he does say what I tell him
Even though it isn't welcome
He just doesn't have the freedom
To refuse
He will speak these words of wisdom
Like a sage, a man of vision
Though he knows he's really nothing
But the brief elaboration of a tube
Going home
Without my sorrow
Going home
Sometime tomorrow
Going home
To where it's better
Than before
Going home
Without my burden
Going home
Behind the curtain
Going home
Without the costume
That I wore
He wants to write a love song
An anthem of forgiving
A manual for living with defeat
A cry above the suffering
A sacrifice recovering
But that isn't what I need him
To complete
I want to make him certain
That he doesn't have a burden
That he doesn't need a vision
That he only has permission
To do my instant bidding
Which is to say what I have told him
To repeat
Going home
Without my sorrow
Going home
Sometime tomorrow
Going home
To where it's better
Than before
Going home
Without my burden
Going home
Behind the curtain
Going home
Without this costume
That I wore
I'm going home
Without the sorrow
Going home
Sometime tomorrow
Going home
To where it's better
Than before
Going home
Without my burden
Going home
Behind the curtain
Going home
Without this costume
That I wore
I love to speak with Leonard
He's a sportsman and a shepherd
He's a lazy bastard
Living in a suit