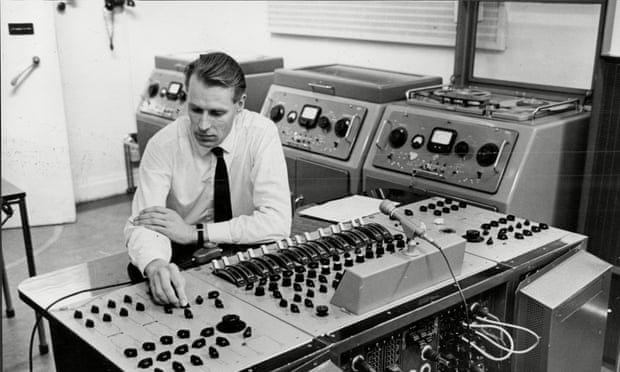 Producer George Martin began his career at EMI Records in 1950 as the assistant to the boss of the Parlophone Records imprint. Initially, he recorded classical and soundtrack music. Towards the end of the 1950s, he worked on a number of novelty records which included people like Peter Sellers and Flanders & Swann. He would also work with the likes of British crooner Matt Munro.
Of course, Martin will always be remembered foremost as the producer of The Beatles. It was his work in the studio which helped the group to attain a crisp, clear vision of their sound… and to make it a hit.
As the ideas of the group began to blossom in the coming years, Martin was also able to help the group realize a much larger vision. This was a vision which regarded the studio itself as an instrument.
This was the concept that created the other-worldly sounds first heard on The Beatles' 1966 LP Revolver is the shape of the song Tomorrow Never Knows. This hypnotic Indian influenced track featured backwards sounds along with tape loops of manipulated recordings. It marked a time when an abstract sound in the heads of the group could become a reality.
This work continued along to their 1967 classic Sgt. Pepper's Lonely Hearts Club Band where Martin was able to guide them though the monumental orchestration of A Day in the Life.
As a producer, George Martin was a part of a musical revolution that began in the mid-'60s. After the break-up of The Beatles, Martin continued to work with some of the group members as well as other new groups on the music scene such as America.
George Martin will ultimately go down in history as one of the most successful producers of all time but, he should also be remembered as a sonic innovator, as well.